Cheap and Best Destination Sopping streets:
Today I am Providing Complete Details of Cheap Shopping Places in the Hyderabad.These cheap marketplaces are best to buy things in your budget. Within your budget, if you want to purchase visit these places.People always think to buy a quality item at low cost, always they can not go to buy the things for malls because of budget restrictions. For them, this cheap marketplaces or cheap shopping streets will help to buy things with happily within their budget.These are the cheap and best Marketplaces to buy good quality things in your surroundings.
Cheap Shopping Markets in Hyderabad:
Hyderabad is known for biryani but also to buy Bangles in Ladd bazar, womenswear in Koti and many more.
LAAD BAZAR:
Ladd bazar is one of the famous streets in Hyderabad.its located center of the city opposite to Charminar.this is one of the busiest bazaars in Hyderabad.This Laad Bazaar is famous for Bangles.The lane is dotted with shops on both sides, open from 11 am to 11.30 pm. Remember to bargain hard. Not only bangles here Pearlas also available at cheap prices.
The verity of bangles with different designs you can find here at cheap cost.The minimum cost of one pair of the bangle is Rs.10/- you know its very cheap here.  While you are going to buy bangle here please do bargain very hard otherwise you will lose.Take a friend who knows Hyderabadi along. It pays to do a tough bargain.
King Koti:
King Koti Is one the Busiest Streets In Hyderabad Located near to MGBS. Koti Sultan Bazar is famous for the latest fashion when it comes to buy cheapest women's clothing.If you are looking for latest cheap and best fashion in women's wear or are a silver-junkie, king koti's Sultan Bazar is one of the oldest shopping areas of Hyderabad.
BEGUM BAZAAR:
Begum Bazaar is of the cheapest bazaar to buy  Bidriware, Metal Works, Household Commodities.This is one of the biggest commercial markets in Hyderabad.Here you can Buy everything from safety pins to automobile engines.Located near to Afzalgunz.
SECUNDERABAD GENERAL BAZAAR, M.G ROAD.
This is area is covered by wedding shops.Here you can buy traditional handmade jewelry, Zari/Kanchi Sarees, colorful imitation jewelry and hair accessories.
Mozzam Jahi Market:
Mozzamjahi Market is an impressive arcade with a quaint appeal.This is one of the biggest fruit markets in Hyderabad builds by seventh Nizam Nijam Osman Ali Khan in the early 1900s, this granite structure started as a fruit market but later began to deal in ammunition as well.You will find it a pleasure to get caught in the crowded shopping in Hyderabad while you sample the dry fruits, buy some ittar and enjoy every bit of the experience.
Shilparamam:
A rural set-up to give you a feel of ethnic India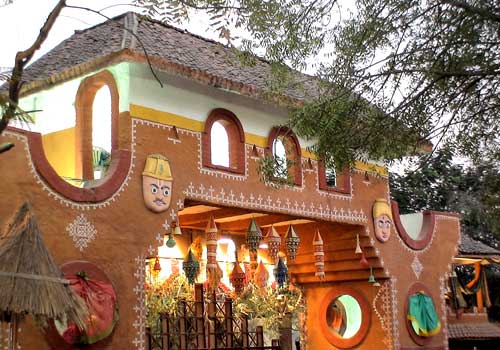 n village feeling amidst the busy village life! This is exactly what Shilparamam is, located in Hitech city opposite to Cyber Towers.Shilparamam is known for Handicrafts, Chanderi Saris, Pochampally Fabric.We can call it as Crafts Village.in Shilparamam Chanderi saris and dress materials from Indore, Madhubani paintings from Patna, Ikat fabric from Pochampally from Andhra Pradesh among others. One small section of these sprawling grounds is all about ceramic ware with beautiful collections of hand-painted pottery.
One interesting place in shilparam is a man-made beautiful lake, which also offers the delight of boating in it. Both rowing and paddle boats are available.
ALSO, READ Theme-Based Restaurants in Hyderabad.